Singapore's best Sticky Name Labels.
Beautiful designs. Outstanding value.

Customise your pack & Save Up To 62%*
Our Sticky Labels are microwave, dishwasher & freezer safe PLUS coated for extra scratch resistance.
Over 1 million orders since 2006!
How do you fight lost property while remaining durable, conformable, conveniently sized AND amazing value? Tinyme super-sticky, Sticky Name Labels, that's how! Fun fact... After printing, Tinyme name labels are coated with special scratch proof coating to make them extra durable. BAM! And you can customise your pack to get exactly what you want? DOUBLE BAM!
My customised order was perfect! Delivered on time. Easy ordering online. No complaints!
- Alexandra
Excellent labels, affordable price. Good discounts a lot of the time. Great packaging. Quick postage.
- Melinda
Their designs are beautiful. Labels are of high quality. Couldn't recommend enough to my mum friends.
- Karissa
Beautiful pastel coloured name stickers that my daughter absolutely adores.
- Sharlyn
---
Tinyme sticky name labels for kids are designed to be extra durable, and they'll hold up against whatever punishment your little ones subject them to. Books, containers, lunchboxes: you name it! Sticky labels are not only great for keeping track of your child's belongings, but they're also a great way of ensuring that your kids come home with the right gear. With our huge collection of kids name stickers you'll be able to label just about anything in sight — with style!
Sticky Label Features
• 100's of different design and colour options.
• Super sticky adhesive.
• Printed at very high resolution in full colour.
• Additional UV light cured gloss clear coating for additional scratch resistance.
• All our name labels will adhere to most smooth, hard, clean surfaces.
• Our labels are waterproof, dishwasher resistant and microwave safe.
Note: the following surfaces may not be compatible: Fabric, clothing, plastics that contain high silicone (non stick), plastics with a greasy feel and plastics with a highly textured surface.
STICKY NAME LABEL INSTRUCTIONS
1. Stick labels to smooth surfaces that are clean & dry. The following surfaces may not be compatible: Fabric, clothing, highly textured surfaces, plastics that contain high silicone (non-stick) or have a greasy feel.
2. Rub firmly over the whole label, especially the edges.
3. Wait 2–3 days for the adhesive to cure. When in the dishwasher, place items with labels on the top shelf & do not use high temperature settings such as "pots & pans".
4. Safety Check: Before giving any item to small children, check that the labels are fully and safely adhered.
WARNING: Labels can be a choking hazard.
Good To Know: Paper labels such as Address, Book and Gift Labels are not waterproof and thus not suited for uses such as dishwasher, microwave, freezer etc.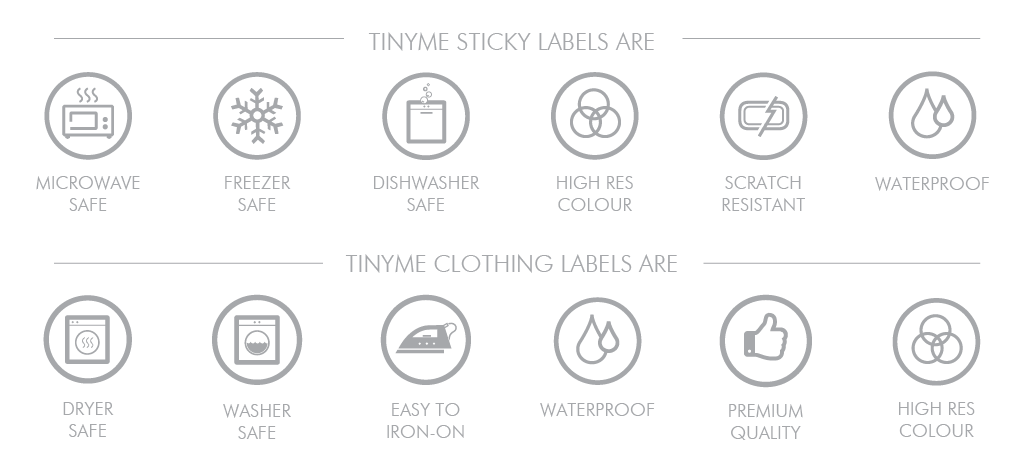 ---
* 62% saving based on largest pack discount compared to purchasing individual sheets.